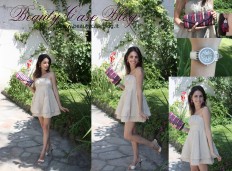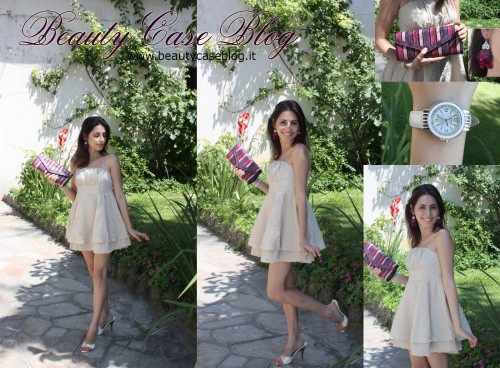 Quello che state per vedere è il primo acquisto che ho fatto attraverso lo store on-line Oasap.com (vi ricordate? Ve l'ho presentato attraverso la rubrica Shopping to), complice il programma di affiliazione cui ho aderito con piacere.
L'offerta è vastissima e la scelta non è stata facile, ma alla fine mi sono lasciata catturare da un abito sfizioso, color albicocca, capace di soddisfare le mie velleità da principessa mancata e la mia predisposizione verso tutto ciò che è froufrou. Nonostante i dubbi inizialmente nutriti ("Sembrerò un sacco di patate?") l'acquisto mi ha soddisfatta quanto a rifiniture, vestibilità e veridicità delle foto presenti sul sito e, udite udite, l'increspatura della stoffa sul seno è un toccasana per tutte le ragazze non eccessivamente dotate: questo aspetto riesce, da solo, a farmi  sentire un po' più bella.
You are going to see my first deal made on the online store Oasap.com (Shopping to directory, anyone?) abetted by the partnership program which I gladly joined.
The catalog is huge and my choice was absolutely not easy, but in the end I just let me got caught by a delicious, apricot dress, which, in addiction, was totally able to fully satisfy my wanna-be-princess velleities and my frou-frou penchant.
Despite many initial doubts ("Am I going to look like a sack of potatoes?" – The Italian way of being clumsy) this purchase pleased me as for finishes, fit and thruthfulness of the photos on the website and, mostly, for the ruffle on the breast, a detail which is alone a real panacea for all the not so gifted girls and it is capable of making me feel a little prettier.
Torniamo agli aspetti pratici.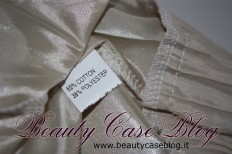 Il tessuto, si può vedere sull'etichetta, è conforme a quanto riportato on-line ed ha una composizione accettabile: 65% cotone, 35% poliestere.
La taglia è unica, ma le misure massima e minima sono ben indicate e la vestibilità è ottima grazie all'arricciatura elastica sulla schiena (che dal sito non si nota) ed alla cerniera sul fianco: quest'ultima è ben mimetizzata e praticamente impossibile da vedere a meno di sapere della sua esistenza.
But, hey, let's come back down to Earth.
As you can see reading the label, the fabric is in compliance with what was reported online and it is made up of 65% cotton and 35% polyester.
There is only one size, but the max-min measures are clearly specified and the wearability is excellent thanks to the elastic gather on the back (nearly invisible on the website) as well as the zipper on the right side which, fear not, is fully camouflaged and almost impossible to see unless you really know of its existence.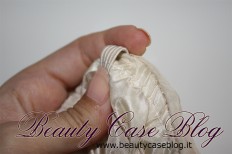 Ho apprezzato particolarmente la presenza dei quattro anellini elastici, due per lato, cuciti nella parte interna dell'abito così da rendere possibile indossarlo a spalle completamente scoperte o sorretto da spalline trasparenti (come ho fatto io nel primo outfit) o, ancora, con spalline gioiello capaci di rendere il look ancora più prezioso.
Accompagnandolo a diverse combinazioni di accessori potrete infatti trasformarlo in audace abito da cocktail, in mise comoda per un pomeriggio di shopping o in tenuta romantica per una serata con il vostro fidanzato. Nulla vi vieta, inoltre, di stravolgere tutte le regole, indossandolo come top sopra un paio di jeans per realizzare una tenuta informale che riceverà più di un complimento.
Qui sotto trovate solo qualche esempio delle infinite possibilità che vi si presentano.
I really appreciated the little four elastic rings, two on each side, stitched on the inside, which make it wearable off-the-shoulder or held up by transparent straps (as you can see in the first outfit) or also by jeweled straps, able to make your look even more precious.
Matching the dress to various arrangements of accessories you will be able to wear it boldly during a cocktail occasion, comfortably over a shopping afternoon or romantically in a soiree with your boyfriend. Nothing prevents you from having it on as a top over a pair of jeans making a casual outfit which will gain you more than a single compliment.
Here you will find some of the nearly innumerable options that occur to your fantasy.
Aperitivo con gli amici?

– Happy hour with friends?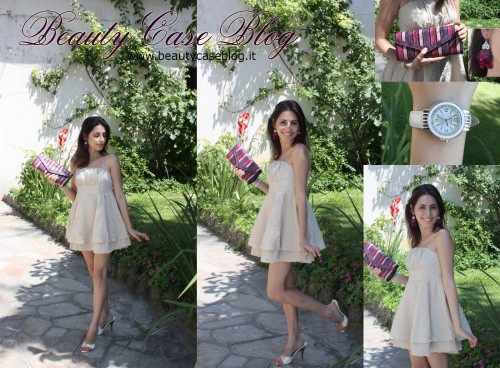 Indossate l'abito Oasap con un paio di sandali bianchi (Replay), abbinandoli ad un bracciale della medesima tonalità o ad un orologio (il mio è di Coccinelle), vivacizzando poi il tutto con un tocco di ironia e di colore affidato agli orecchini a forma di gufo, con piume fucsia e firmati Accessorize, ed alla simpatica pochette Fergi che accosta diverse tonalità di rosa e di viola.
Wear the Oasap dress with a pair of white sandals (Replay), matching them to a bracelet of the same colour or a watch (mine is branded Coccinelle), brightening all up with a pinch of irony and colour entrusted to the owl shaped earrings enriched by fuchsia feathers and branded Accessorize, and to the nice clutch bag by Fergi which combine several shades of pink and violet.
Pomeriggio estivo di Shopping? – Summer shopping afternoon?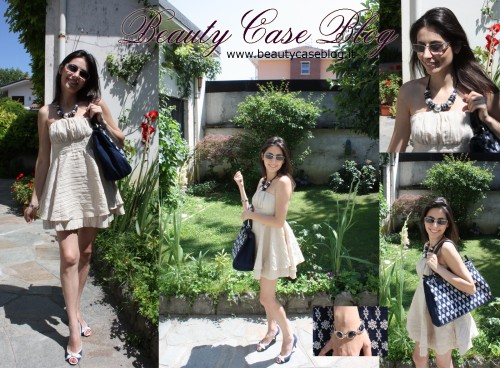 L'abito ampio e fresco è capace di rendere facili e rapidi i cambi all'interno dei camerini prova senza trasformare lo shopping in un'esperienza da incubo. Abbinatelo ad un paio di open toes blu con bordino e fiocchetto in vernice color panna (Geox), scegliendo un tacco appena accennato per non affaticare inutilmente le gambe. La borsa deve essere in tinta, blu con ricami chiari e con una chiusura argentata (Carpisa) che richiami sia il braccialetto (Accessorize) che la collana importante, entrambi splendidamente blu e argento.
The dress comfort and freshness make quick and easy any changing of clothes in a fitting room without turning the shop into a nightmare experience. Couple it with a blue open toes pair of shoes featuring a little border and a small gloss cream-coloured bow (by Geox), choosing a low heel to avoid straining too much your legs. Your bag should accordingly be blue with bright needleworks and a silver catch (by Carpisa) which recall the bracelet (by Accessorize) and the notable necklace, both of them beautifully blue and silver.
Passeggiata serale nel centro storico? – Evening walk in the old town?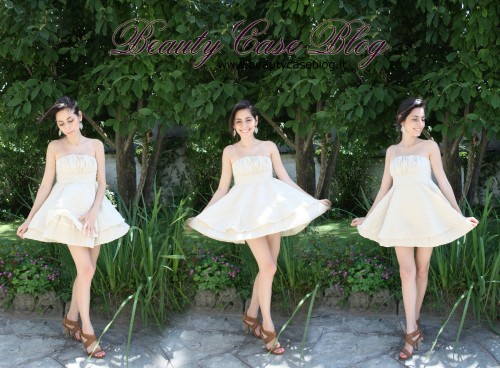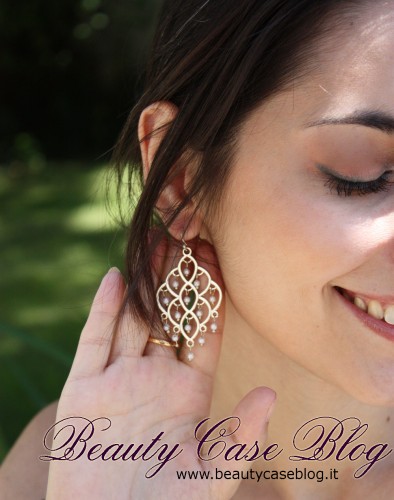 Abbinate l'abito a orecchini dorati con allure arabeggiante (Accessorize) e scegliete un paio di scarpe marroni con un tacco sufficientemente alto da slanciare la figura ed abbastanza spesso da non dover fare costantemente attenzione alla pavimentazione sconnessa (alzi la mano chi non è mai stata vittima dei sanpietrini!): io ho scelto quelle che vedete qui sopra, di Francesco Milano, tacco di 9,5 centimetri e conformazione perfetta per sostenere bene la caviglia. La borsa può essere marrone, oppure dorata o può rappresentare l'unico tocco di colore in un look dalle tonalità naturali; evitate, in ogni caso, il nero.
Pair the dress with golden earrings gifted by an Arabic allure (by Accessorize) and pick a brown-coloured pair of shoes: the heels should be high enough to make you look slender as well as thick enough to avoid tripping over uneven paving (raise your hand anyone who has not been prey of the cobblestone!); I chose the ones you can see above, by Francesco Milano, 9.5 cm heel and the perfect structure to support the ankle. Your bag could be brown, golden or the one colourful touch in a natural-tonalities-featured look; at any time, keep yourselves from the black.
Spesa al supermercato? – Some shopping at the supermarket?
Utilizzate l'abito come top abbinandolo ad un paio di jeans skinny (ma sarebbero perfetti anche dei leggings), ad una capiente shopping bag ed a sandali aperti. Completate il tutto con uno o (massimo) due tra orecchini, collana, anello e bracciale; vi sembrano pochi? Ricordatevi quello che diceva Coco Chanel: "Prima di uscire guardati allo specchio e togli un accessorio". Nell'outfit soprastante i jeans sono firmati Met, gli orecchini Accessorize ed i sandali Replay.
Feel free to use the dress as a top, matching it to a pair of skinny jeans (a pair of leggings will be fine too), a capacious shopping bag and a pair of open sandals. Complete the outfit with a (single or, if you can just not resist, double) choice between a pair of earrings, a necklace, a ring and a bracelet; do you fear the emptiness? Remember this quote by Coco Chanel: "Before going out, look at yourself in the mirror and strip off an accessory". In the outfit you can see above the pair of jeans is by Met, the earrings are branded Accessorize and the sandals are by Replay.
Cosa ne dite, vi piace? Qual è l'outfit che vi colpisce di più? E voi come abbinereste questo vestito?
What do you think? Do you like it? What is the most striking look? How would you match this dress?