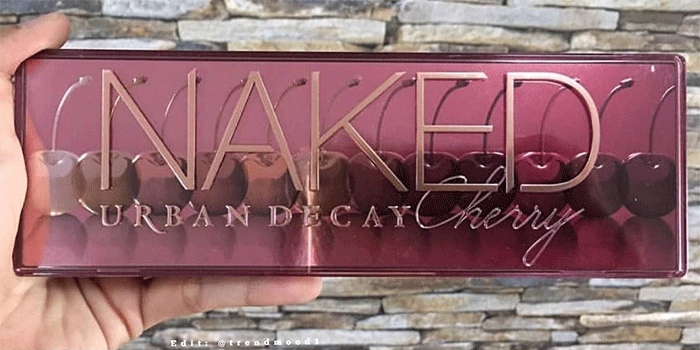 Per una palette che ci lascia, l'iconica Naked 1, ce n'è un'altra che arriva e promette di diventare un must have: la Naked Cherry eyeshadow palette.
A darne l'annuncio è stato l'account Instagram Trendmood1, seguito da più di un milione di appassionate di cosmetica, scatenando commenti a dir poco entusiastici.
La forma è quella tipica delle palette Naked: un cofanetto contenente un pennello occhi a doppia punta e 12 ombretti con finish matte, shimmer o satinato. Le colorazioni, tutte inedite, spaziano tra il rosa-pesca, il rame, il viola e il borgogna, cui si accompagnano due marroni, uno opaco e l'altro shimmer, ed un rosa con micro glitter –Bang Bang– pensato per i punti luce.
Qui di seguito trovate i nomi degli ombretti, riportati secondo un ordine che va da sinistra a destra: Hot Spot, Caution, Bang Bang, Feelz, Juicy, Turn On, Ambitious, Bing, Devilish, Young Love, Drunk Dial, and Privacy.
Voci di corridoio dicono che il prezzo sarà lo stesso della altre naked: 51 euro in Italia, 39,50 sterline in UK.
Al momento Urban Decay non ha rilasciato alcuna informazione in merito alla nuova NAKED Cherry eyeshadow palette, ma  due indizi portano a pensare che l'ufficialità sia solo una questione di tempo. La notizia, oltre ad essere stata ripresa da testate inglesi quali Cosmopolitan, Glamour, Allure e The Sun, può infatti essere confermata con una semplice ricerca sul sito americano dei brevetti. L'ha fatto per prima la rivista on-line Revelist, l'ho fatto io e potete farlo anche voi: usando la chiave di ricerca "Naked Cherry" scoprirete che L'Oreal ha registrato nel mese di febbraio proprio il marchio Naked Urban Decay Cherry. Già: sembra proprio tutto vero!

Voi cosa ne pensate? Vi piace la nuova arrivata in casa Urban Decay? Non vedete l'ora di vederla dal vivo o vi lascia indifferenti? Fatemelo sapere subito in un commento qui sotto o su  Instagram (@beautycaseblog): non vedo l'ora di leggere la vostra opinione!